INDUSTRISAN Dissolvable Chlorine Tablets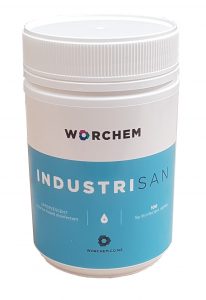 What is INDUSTRISAN?
INDUSTRISAN's active ingredient (NaDCC) has been recommended as a Surface Disinfection Method for the Disinfection of Covid-19, Coronavirus by TIPS
INDUSTRISAN effervescent disinfectant tablets are designed for schools, kindergartens, commercial accommodation, homes and other workplaces.  INDUSTRISAN offers simple, accurate and fast dilution for the convenience of you and your staff. See specific application recommendations in the table below.
It is effective against pathogenic bacteria, viruses, protozoa, fungi, yeast and spores.
INDUSTRISAN tablets use sodium dichloroisocyanurate (NaDCC) as a dry chlorine donor.
Each container of INDUSTRISAN produces a generous 1000L of chlorine disinfectant solution. With easy dilution and measurement, the convenient tablets make for simple and effective removal of a broad spectrum of unwanted microorganisms.
Application

Available Chlorine (ppm)

Tablet Dilution
(1 tablet dissolved in)

Critical Surface Disinfection

1000

1.5L

Sink and wash basin, Bath, Lavatory,
Toilet Bowl

150

10L

Surfaces, Walls and Floors

150

10L

General Disinfection

150

10L

Whitening of Sheets, Linen and Whites

150

10L

Dish Cloths and Mops

60

25L
Contact Aorangi Forensic Supplies
About Us
Aorangi Forensic Supplies Limited is a New Zealand manufacturer and distributor of forensic equipment and supplies. Aorangi Forensic Supplies strives to provide a high standard of service and product, and can offer technical advice relating to its products. Based in Wellington, we endeavour to also support other New Zealand manufacturers whenever possible.
Prices on this website are exclusive of GST.