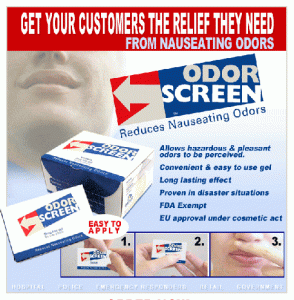 OdorScreen's development is driven by the understanding that human comfort and well-being is affected dramatically by odors. While pleasant environmental fragrances, natural or artificially generated, may enhance efficiency, productivity and concentration, malodors, even in small concentrations may lead to dramatic deterioration in such personal parameters. Offensive malodors pose a major obstacle in human performance of military, medical and service professionals. Typical syndromes are nausea, depression, loss of appetite and more. Post Traumatic Stress Syndrome may be induced by the overpowering stench of disaster and battle scenes, and thus may affect mental integrity. Under stressful conditions, offensive malodors may compromise a person's ability to make decisions and to perform tasks.
OdorScreen's technology is based on the concept of olfactory perception altering compounds. It contains a patented combination of materials that counteract malodors. It provides the human olfactory pathway with a source of cross-adapting odorants, thereby altering perception of the malodor. In addition, OdorScreen contains vanilla, well known as a stress reliever, to bring about a feeling of well-being and relaxation. The result is increased ability to concentrate on the task at hand and improved overall performance for personnel in conditions of high stress caused by nauseating stenches. OdorScreen does not majorly affect the user's ability to detect other odors.
OdorScreen is in the form of a small sachet, containing the active compounds in a passive petrolatum (Vaseline) carrier. It is specifically designed for nostril application (above the upper lip), with a functional lifetime of two hours. The shelf-life is estimated as two years.
OdorScreen addresses the Homeland Security disaster preparedness needs in the military, police forces, first responders, nursing homes, hospital care and home care. Individuals belonging to these categories suffer from offensive odors in the course of routine activity. We have strong sufficient indications that these individuals can benefit from the use of OdorScreen. In terms of regulatory status, OdorScreen has obtained an EU ruling for classification as a cosmetic product. An FDA ruling has been obtained that OdorScreen falls under the regulatory jurisdiction of the consumer product safety commission (CPSC). Thus, there are no drug-associated constraints on the use of OdorScreen.
Contact Aorangi Forensic Supplies
About Us
Aorangi Forensic Supplies Limited is a New Zealand manufacturer and distributor of forensic equipment and supplies. Aorangi Forensic Supplies strives to provide a high standard of service and product, and can offer technical advice relating to its products. Based in Wellington, we endeavour to also support other New Zealand manufacturers whenever possible.
Prices on this website are exclusive of GST.