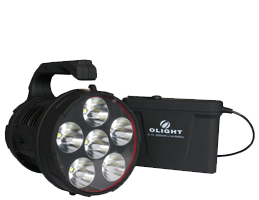 The X6 Marauder is a monster of a light, absolutely dominating the night with a mind boggling 5,000 lumens of light. Driven by 6 CREE XM-L LEDs, the X6 is light and compact with no activation delay, easily surpassing outdated HID technology. Reaching out to 700 yds, the X6 is ideal for use as a spotlight, in search and rescue, and for illuminating large areas. It has three brightness levels and a stunning strobe mode, controlled by a button on the handle. The X6 can be mounted to a tripod and/or used for fixed installations, powered by an AC adapter. Made of aluminum, polymers and carbon fiber, the light is rugged, light, and effectively dissipates heat. The X6's innovative design separates the light from the power supply with a rechargeable high-capacity lithium battery pack — this shifts the additional weight of the batteries to your belt, rather than in your hands with the light itself. The X6 is the best example yet of Olight's commitment to harnessing technology in imaginative ways to meet end user needs.
Key features
Three brightness levels from 150 to 5,000 lumens, plus a strobe mode
Multi-function clicky thumb switch selects modes with an optional remote switching mode
6 CREE XM-L LEDs turn night into day with a beam distance up to 2,100 ft.
Rechargeable Lithium battery pack with belt clip, power switch, and charging indicator
Hard anodized aluminum, polymer and carbon fiber body with mounting points
Large fins and Active Thermal Management to prevent overheating and rubber blocks to protect user from hot parts
Specifications
Included accessories
X6 battery pack
Lanyard rings (x2)Strap
AC charger and power cord
Protective carrying case
For more information on this torch, visit www.olightworld.com.
Contact Aorangi Forensic Supplies
About Us
Aorangi Forensic Supplies Limited is a New Zealand manufacturer and distributor of forensic equipment and supplies. Aorangi Forensic Supplies strives to provide a high standard of service and product, and can offer technical advice relating to its products. Based in Wellington, we endeavour to also support other New Zealand manufacturers whenever possible.
Prices on this website are exclusive of GST.