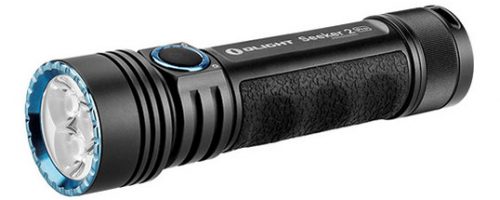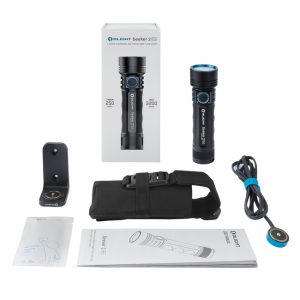 Olight Seeker 2 Pro
Beam Distance (ft)          820
Beam Distance (m)         250
Max. Performance          3200 (lumens)
Charge type                      Magnetic USB charge base
Compatible Batteries     Customized rechargeable 21700, 5000mAh 3.6v Battery
Light Intensity                 15600 (candela)
Light Form                        Standard hotspot diameter with impressive distance. The perfect all-around beam profile.
Lens / Reflector Type    Smooth reflector (central area and flood area)
Mode Operation              Side Switch
Series                               Series Seeker (Rechargeable, Heavy Duty)
Unique Characteristics:
(1)  Compact size with powerful performance, incredibly delivers a maximum output of 3,200lumens and a long beam distance of 250 meters, providing you a new flagship-level illumination experience.
(2)  Convenient L-dock included: can be attached to or fixed (3M tape included) on a wall or table indoors that is close to a power source, providing a dedicated charging location for your Seeker 2 pro.
(3)  Visual display indicators on both sides of the switch: the four indicators on the right side clearly display the battery level and the four on the left side display the brightness level
(4)  Milled finger grooves and dermatoglyphic silicone are used on the surface of the holding position, making it soft and anti-slip.
(5)  Customized high capacity 21700 lithium rechargeable battery: currently the highest 5000mAh battery in its size for great run times.
Lighting Levels:
LEVEL 1 (lumens)        3200-600                                       Run-time  2+130min
LEVEL 2 (lumens)        1200-600                                       Run-time  110+30min
LEVEL 3 (lumens)        300                                                 Run-time  9h30min
LEVEL 4 (lumens)        50                                                   Run-time   52h
LEVEL 5 (lumens)        5                                                     Run-time   12d
Strobe                            Yes
SOS / BEACON             No
Technical Characteristics:
Waterproof                                           IPX8
Weight (g / oz)                                    198g/6.98oz
Length (mm / in)                                128mm/ 5.04in
Head Diameter (mm / in)                  35mm/1.38in
Body Diameter (mm / in)                  28mm/1.10in
Led                                                        3 X Cree XP-L HD CW
Packaging                                            Carton gift box
Use                                                        Search and rescue, hunting, camping, industrial, heavy-duty, security, police, self defense, outdoor.
Package Contents:
Flashlight (Battery included) ×1
MCC1AL Magnetic Charging Cable ×1
Self-Adhesive Ply-Yarn Drill ×2
L-dock Charging ×1 Set (includes holder, adhesive, and screw)
Holster ×1
Cleaning Cloth ×1
User Manual ×1