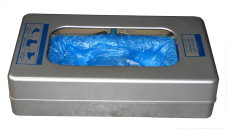 The Automatic shoe cover dispenser is ideal for situations where it is necessary to prevent dirt or contamination from foot traffic. Fitting the cover is as simple as stepping in and out of the box.
Contact Aorangi Forensic Supplies
About Us
Aorangi Forensic Supplies Limited is a New Zealand manufacturer and distributor of forensic equipment and supplies. Aorangi Forensic Supplies strives to provide a high standard of service and product, and can offer technical advice relating to its products. Based in Wellington, we endeavour to also support other New Zealand manufacturers whenever possible.
Prices on this website are exclusive of GST.